Our Role In His Story
We are a family of six seeking to serve God however and wherever He leads our family.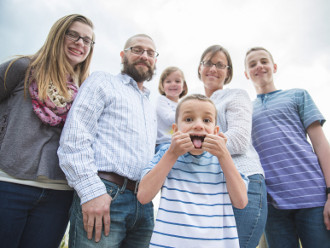 Jeff has a background in finance and administration and Tammi is a stay-at-home mom who has homeschooled our children. We both began working and serving in ministry at our local church and eventually received a calling to serve in the global mission field. Our first foray into missions was serving as the Field Business Administrator with Christian Missionary Fellowship in Nairobi, Kenya. We served alongside the Kenyan national church leader and worked to serve the 13 CMF families in Kenya at that time.
After two years in Kenya, God began directing us toward Haiti and we partnered with Haitian Support Ministries. HSM has a ministry work in Jacmel, Haiti, that includes five churches, an orphanage, five schools, and a number of feeding centers. Our goal was to use our God-given abilities and gifting to both assist the ministry on the ground in Haiti and also to enable HSM to communicate to supporters exactly the challenges and needs of the work being done. Due to security risks, we were forced to leave the ministry work in Haiti and worked for a time stateside with HSM.
We still feel that God is calling us to global ministry and we have recently partnered with ReachGlobal to serve in Latin America. ReachGlobal is praying and planning to reach 10 million people over the next 10 years through service and partnerships with local churches and church leaders throughout Latin America and the Caribbean. As we move our family, Emily (1998), Elliott (2000), Edison (2006) and Evangeline (2010) once more outside of our culture and comfort zone, we continue to rely on God's leading and provision, and on support from our partners and friends. If you would like to know more about us, have any questions about what we are doing or would like to partner with our ministry work or Haitian Support Ministries, please email us or contact us via our Contact Page.
Follow along with our journey by joining our newsletter mailing list Sign Up or catch up on our past adventures Here.
If you are interested in partnering with us click Here.